President Margvelashvili visits Estonia
By Ana Robakidze
Tuesday, April 29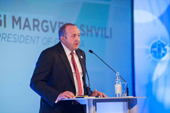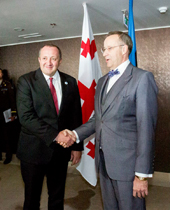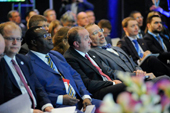 President of Georgia, Giorgi Margvelashvili paid an official visit to Tallinn, Estonia. He was personally invited by his Estonian counterpart Toomas Hendrik Ilves.
Margvelashvili has a number of bilateral meetings scheduled. He also opened the two-day long Freedom Online Coalition Conference "Free and Secure Internet for All" together with the Estonian President.
The conference brought together international experts and state officials (more than 450 people from over 60 countries), who focus on the continued promotion of fundamental freedoms online.
Margvelashvili addressed the delegates at the conference. In his speech he focused on internet security and spoke about cyber attacks from Russian hackers, who hacked Georgian web-pages in August 2008.
He said Georgia continues to cooperate with his partners to ensure human rights protection and protection of internet freedom.
The participants of the conference focused on internet freedom and agreed the internet has to be protected from leaked information.
Along with the meeting with the president of the host country, Giorgi Margvelashvili also held meetings with Estonian Prime Minister Taavi Roivas, Foreign Minister Urmas Paet and Parliament Chairperson Eiki Nestor.
Margvelashvili discussed bilateral relations with Estonia, the international situation, Georgia's integration into the EU and NATO, as well as the issues of internet freedom.
Later On April 28th, Margvelashvili attended a gala dinner held on behalf of the President of the Republic of Estonia.