Alasania hopes NATO will put defensive assets in aspirant countries
By Ana Robakidze
Friday, May 2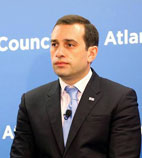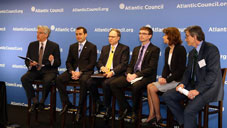 Georgian Minister of Defence Irakli Alasania participated in the international forum Europe Whole and Free organized by the Atlantic Council in Washington. Alasania spoke as a part of a panel of Eastern European defense ministers who had gathered to discuss the transatlantic community's possible steps as a reply to Russian aggression.
Speaking about Russia's aggressive policy, Alasania said that NATO should deploy defensive assets in Georgia.
"Now the West has to see the opportunity and create the reality on the ground by accepting the membership of aspirant countries to NATO by putting purely defensive assets in aspirant countries and predominantly in Georgia. Air defense capabilities - this is something we need to put in Georgia and Russians will understand that you are serious," the Minister said.
Alasania focused on the importance of the U.S and the European Union. The Minister believes that the US should take leadership in the current situation.
He also spoke about Georgia and its successful reforms. Alasania reminded the audience about Georgia's military contribution to NATO and said now the country is waiting for an appropriate response from the alliance.
"This is expansion of NATO; this is another round of enlargement. Actually, starting the enlargement with Georgia and other aspiring allies who are putting a lot on the plate in security and also, without military deterrence, nothing is going to happen. I think it is right that now they are thinking to put additional military assets in NATO countries and Eastern countries but we should not forget about our partners," Alasania stated. He believes NATO enlargement is the only appropriate answer to Russia, as sanctions that international organizations can impose on Moscow are only temporary measures.
Meanwhile, the Georgian government is preparing for the NATO summit in Wales and continues consultations with the Alliance officials. James Appathurai, NATO Secretary General`s Special Representative for the Caucasus and Central Asia arrived in Tbilisi on May 1st.
"I arrived in Tbilisi for consultations with the President, Prime Minister and Ministers on the regional security situation and on our cooperation." Appathurai commented upon his arrival in Tbilisi airport.
NATO officials already held a joint press conference with the Georgian Foreign Minister, Maia Panjikidze. Appathurai commented on Alasania's message to NATO asking to place defensive assets in Georgia. A NATO official said that the Minister's message to the Alliance was very clear. He also mentioned that NATO does not have its own defense systems to set up in partner countries. However, the Alliance is always ready to help governments with organizing defense systems.