Georgia asks NATO for anti-aircraft and other defense weapons
By Messenger Staff
Monday, May 5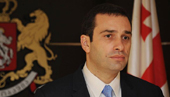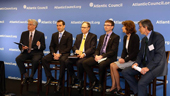 The ongoing crisis in Ukraine and the new reality created in Georgia after the August War of 2008, essentially changed the situation in NATO-Georgia relations.
Many analysts believe that receiving Membership Action Plan (MAP) will not be enough for Georgia. The country urgently needs to become a member of the alliance and have the presence of alliance military forces on its territory. Only these efforts will ensure enough security for Tbilisi and stop Moscow.
In the case NATO does not understand the current situations in Georgia, the Georgian population's overwhelming support to NATO integration could change radically. People will see that the country's efforts have no hopes.
Georgian Defense Minister Irakli Alasania stated in Washington DC on April 30th, that in response to Russian activities in Ukraine, NATO should deploy anti-aircraft/air defense weaponry on Georgian soil. This is what Georgia needs, so Moscow will realize that NATO means what it says. Alasania demanded that NATO officials finally consider accepting Georgia as a full member. So far, the alliance has discussed granting Georgia MAP, but this is hardly a sure thing.
Russia's aggressive conduct against Ukraine is creating a new reality. Under these new circumstances, granting only MAP to Georgia could become a source of even deeper danger, as MAP provides no security guarantees at all.
The Georgia defense minister insisted that NATO's next step should be accepting Georgia as a full-fledged member. Minister Alasania also reminded NATO officials that Georgia has steadfastly deployed its military in NATO operation in hot spots around the world. He also invited NATO to conduct exercises on Georgian territory with the participation of NATO forces, presumably Turkish and including Azerbaijani and Georgian servicemen.
Russia's pattern as late has been to act first and only after start negotiations with the West. Therefore, under these circumstances, the West should take the initiative on these matters.
Certain military installations should be deployed on the ground, such as air-defense and anti-tank weapons. "We should be able to protect our freedom and not be placed in a situation like 2008 when nobody would come to our aid," stated Alasania.
Most Georgian analysts are skeptical of the minister's position. They believe NATO does not want another headache caused from ensuring security to Georgia. They believe that NATO will instead increase its attention towards protecting alliance members, most notably Baltic countries and East European NATO members. However, Georgian analysts suggest that in such a case, maybe a bilateral agreement with the U.S could be achieved if of course the U.S government is prepared for it.