Tbilisi Summit 2014 hosts Azerbaijani and Turkish Presidents
By Ana Robakidze
Wednesday, May 7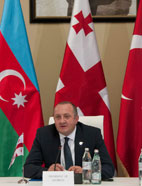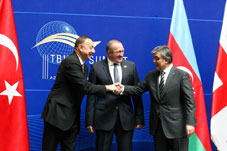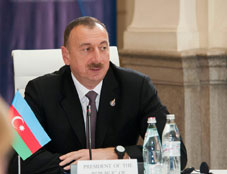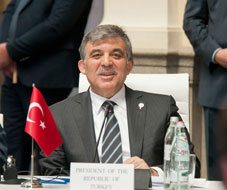 Azerbaijani President Ilham Aliyev and Turkish President Abdullah Gul arrived in Tbilisi to participate in a trilateral summit together with their Georgian counterpart Giorgi Margvelashvili.
Tbilisi Summit 2014 was opened by the Georgian President on May 6th. The event aims to summarize the results of twenty years of cooperation in economic, trade, transportation and energy sectors, as well as the implementation of ongoing joint projects.
The Azerbaijani President said he had high expectations from the summit and from trilateral relations.
"We put much effort in our trilateral relations to serve not only our countries and our region, but the whole world, as our cooperation is based on bilateral interests," Alliev said.
Turkish President Abdullah Gul stressed the importance of joint projects by Georgia, Turkey and Azerbaijan.
After the opening ceremony the presidents moved behind closed doors for further negotiations.
"We share a common view on the Caucasus region," President Gul said at the joint press conference. The Turkish President said his country has strong economic ties with Georgia and Azerbaijan and these relations make the region a very attractive place for international investment.
President Gul focused on the importance of the Baku-Tbilisi-Ceyhan, Baku-Tbilisi-Erzurum pipelines and Baku-Tbilisi-Kars railway. He said that the whole world watches the development of these projects.
The President of Azerbaijan voiced his initiative to hold the following trilateral summit in Baku.
"We have agreed that the summit should be held regularly. Therefore, let us arrange the next session in Azerbaijan, if you do not mind of course," Alliev said in Tbilisi.
Baku-Tbilisi-Kars railway was one of the major topics discussed at the summit. Responsible ministers from the three countries made detailed presentations on the project.