Minister Alasania meets Vice President Joseph Biden
Thursday, May 8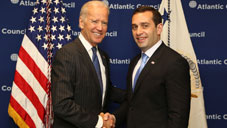 On April 30, 2014, during the Atlantic Council's Meet and Greet, Minister Alasania met with the vice president of the United States, Hon. Joseph R. Biden Jr.
Irakli Alasania expressed his gratitude to the U.S. Vice President for his active support of Georgia's territorial integrity and sovereignty, as well as the country's aspiration to NATO membership. The defence minister once again underlined the importance of the U.S.-Georgia strategic partnership.
At the meeting the sides discussed the Ukrainian crisis and Russia's policy in the region. Irakli Alasania highlighted the importance of the unity of the U.S. and EU combined actions for stabilization the existing situation and overcoming challenges in the region. Georgia's NATO membership was one of the main topics of the discussion at the meeting. The Georgian side once more emphasized the necessity of granting MAP to Georgia and U.S. active support in this respect.
At the meeting the sides talked over the U.S.-Georgia bilateral cooperation issues as well. The U.S. Vice President underlined the essential progress Georgia has achieved in defence reforming process. He also thanked the Georgian side for the contribution to NATO-led ISAF mission. The sides referred to the ongoing democratic process in Georgia as well.