Defence Minister's Public Speech at Brookings Institute
Thursday, May 8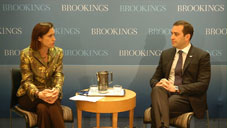 The Defence Minister of Georgia started the second week of his working visit to the US with a public speech at the Brookings Institute. While delivering the speech at the center on the United States and Europe (CUSE), Minister Irakli Alasania spoke about Georgia's vision for Euro-Atlantic integration during a period of increased insecurity in the region.
In his remarks, Minister Alasania shared his insights on the upcoming NATO summit and Georgia's approach to enhancing its relations with the West. The defence minister underlined the importance of signing the Association Agreement with the EU as well. While addressing the audience he also referred to the Ukrainian crisis.
"I referred to three main issues. First - Georgia's NATO aspiration and what the USA and NATO should do for Georgia to get positive result in September. We outlined that Georgia is a powerful, democratic and reliable partner. Hence, direct step forward should be made in order Georgia to get a new instrument in NATO. Secondly, we referred to Georgia-U.S. relations, as well as what kind of assistance the USA as a partner should render to Georgia to get adequate defence capabilities. And the last one - we spoke about the existing situation in the Ukraine, Russian aggression and what steps should be made for the upcoming presidential elections. We also referred to the activities the Ukrainians are carrying out to overcome the obstacles in the east", stated Defence Minister of Georgia Irakli Alasania after public speech at the Brookings Institute.