Defence Minister's Meetings with U.S. Senators and Congressmen
Thursday, May 8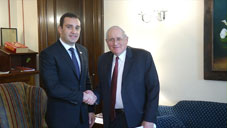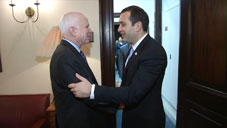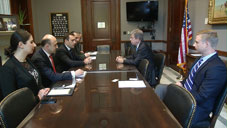 The Defence Minister of Georgia held meetings with representatives of the US Congress in the framework of his working visit to the US.
"The meetings at the Senate were very important in order to elaborate on a common position related to Georgia before the NATO Summit. I'd like to outline that after meeting with President Obama and Prime Minister Garibashvili, interest is high towards Georgia to become a successful model at the upcoming NATO Summit, as well as a successful model for the countries of the region. Therefore, Georgia has high support which will be reflected in concrete decisions at NATO Summit", declared Irakli Alasania.
The defence minister delivered information on the reforms fulfilled in Georgian defence sphere to Chairman of the SASC, Senator Carl Levin and Senator Roy Blunt. He expressed gratitude to the Senators for their support on Georgia's Euro-Atlantic aspirations.
Within the visit, the defence minister also met with CNAS President Richard Fontaine and AEL Vice President for foreign and defence policy studies Danielle Pletka.
At the meetings with Senators John McCain and James Inhofe the sides discussed Georgia-U.S. cooperation issues in military field. Georgian MoD delegation also held meetings with Chairman of the Select Committee on Intelligence, Congressman Michael Rogers, HASC Congressman Michael Turner and Chairman of the House Committee on Homeland Security, Congressman Mike McCaul.
Georgia's NATO aspiration, as well as regional security and basic aspects of Georgia-U.S. strategic cooperation were one of the main topics of the discussions at the meetings with U.S. Congress representatives.
Georgian Defence Minister expressed gratitude to the Senators and Congressmen for the support of Georgia's territorial integrity and sovereignty, democracy, security and on Georgia's path to NATO membership.
"U.S. Congressmen and Senators support Georgia on its path to Euro-Atlantic integration, as well as increasing country's defence capabilities. Congress representatives consider that Georgia is a reliable and experienced partner, also a partner to spread democracy in the region. Hence, Republicans, also Democrats express full support to Georgia in order to discuss these two issues" – stated Defence Minister after the meetings with the U.S. Congress representatives.