Conference of Levan Mikeladze Foundation
Thursday, May 8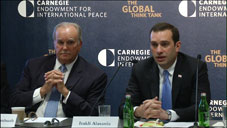 The Minister of Defence of Georgia took part in the conference held in Carnegie Endowment for International Peace in Washington. The conference "Georgia`s European Choice" was led together with Levan Mikeladze Foundation (LMF). Irakli Alasania delivered a speech in the panel "Georgia`s Euro-Atlantic Aspirations".
During the discussions Minister stressed the challenges Georgia faces. He underscored the role and potential of Georgia, the necessity of cooperation with NATO and EU and future perspectives. Minister also talked on the importance of signing EU-Georgia Association Agreement.
"A very important conference was held in Washington in cooperation with LMF, dedicated to Georgia`s Euro-Atlantic future. Levan`s close friends, colleagues and political elite representatives of Washington all attended the conference. A positive assessment was given to the steps undertaken by Georgia on its Euro-Atlantic path. I would like Levan to be with us, though his name and connections are actively used by the Foreign Ministry of Georgia to provide support for the country", said Minister of Defence Irakli Alasania.
At the conference "Georgia`s European Choice" Deputy Minister of Defence Mikheil Darchiashvili, First Deputy Chief of General Staff COL Vladimer Chachibaia and Georgia`s Ambassador to the United States Archil Gegeshidze as well as Levan Mikeladze`s Georgian and American friends and colleagues attended the conference