President Gul hopes Turkish direct investment in Georgia will increase
By Ana Robakidze
Thursday, May 8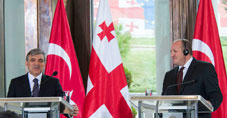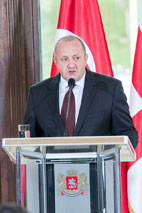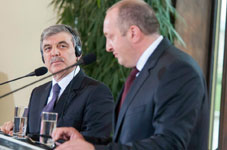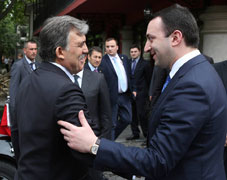 President of Turkey Abdullah Gul met his Georgian counterpart, Giorgi Margvelashvili on May 7th.
After discussing future cooperation plans and regional security, behind closed doors the presidents held a joint press conference.
President Gul said Turkey supports Georgia's European and Euro-Atlantic aspirations and the country's territorial unity and sovereignty. He also spoke about protecting the cultural heritage the two countries share.
As well as speaking about the economic partnership between the two countries, the Turkish President emphasized the importance of protecting cultural heritage sites and freedom of religion.
"Our countries have a very rich cultural heritage. It is crucially important for both of us to protect this heritage, restore and preserve it," Gul said.
President Margvelashvili spoke about the joint railway and pipeline projects and said Turkish-Georgian economic cooperation is becoming more interesting.
"These are gas pipelines, oil pipelines, and a railway which we are developing together, and yesterday an additional incentive was given to strengthen these projects in European and Asian directions," Margvelashvili stated.
The Turkish president also participated in the Georgian-Turkish business forum together with Georgian Prime Minister, Irakli Gharibashvili.
"There is a really fair, transparent and safe investment environment in Georgia, and each cent invested by you will be protected by law and state," Gharibashvili said at the Georgian-Turkish Business Forum on May 6th. The PM focused on the large amount of Turkish investment and expressed his hope that more Turkish companies will be interested in the Georgian market.
"As the head of the government, I would like to say that the door of Georgia is open to you, if you decide to start a business in Georgia," the PM stated, addressing the participants of the forum.
Speaking at the forum the President of Turkey emphasized the friendship of the two countries and mentioned that he welcomes the position the Georgian government has regarding direct investments and further development of the economy.
"The new government of Georgia has a very serious view about the future. It is open to the world and such transformation is very important. We, as a friend of Georgia, are glad to see these changes", President Gul said.
The Turkish president arrived in Tbilisi to participate in a trilateral summit together with his Azerbaijani and Georgian counterparts on May 6th.