British Foreign Secretary visits Georgia
By Ana Robakidze
Friday, May 9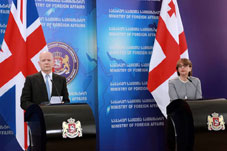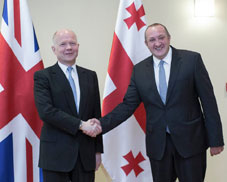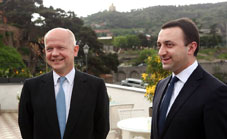 "Georgia is a valued partner to NATO and I am confident that at the summit in Wales… [NATO] will want to recognize the progress that Georgia is making and the work that we all do together," British Foreign Secretary William Hague said after his meeting with the Georgian Foreign Minister Maia Panjikidze.
Hague arrived in Tbilisi on May 7th to hold bilateral meetings with Georgian officials.
Speaking at the joint press conference with Panjikidze British Foreign Secretary said he arrived in Georgia to support the country's Euro-Atlantic trajectory, its territorial integrity and its democratic progress. Hague also said his country supports the early signing of the association agreement between Georgia and the European Union.
According to Minister Panjikidze Georgia has proved its progress and has shown it meets NATO standards. Therefore, the government will be looking for the best results at the upcoming Wales Summit.
"We strongly believe that Georgia has clearly shown progress required from a NATO aspirant country, therefore we have an expectation that progress made by us will be adequately assessed at the upcoming NATO summit in Wales… We believe that this summit will be the right time for deepening Georgia's Euro-Atlantic integration," Panjikidze stated.
British Foreign Secretary also answered a journalist's question about the possibility to have NATO defensive assets deployed in Georgia. Hague said in general he supports all the measures that could ensure the security in the country.
"We are in favor of course of building up further cooperation between Georgia and NATO. This is already a very important cooperation. I gave the example of Afghanistan and I am sure there are many ways on which we can build on this further in ways that add to the security of Georgia as well as strengthen international peace and security. So I do not have any, I cannot give you any more detail in that. I believe that the NATO summit in Wales will be very important to recognize this progress and the United Kingdom as the host nation will be very clear that it's important to recognize that progress and to build on it further and that is for the defense ministers to expand on precise defense arrangements." Hague stated.
William Hague also held meetings with President of Georgia Giorgi Margvelashvili, Prime Minister Irakli Gharibashvili and representatives of the United National Movement opposition party. The PM hosted Hague at a businesss lunch. According to the PM's press center, mutual relationships between Georgia and Great Britain, the association agreement with EU and NATO Summit in Wales, as well as strengthening the relationships in trade-economic, transport-energy and cultural-educational fields were discussed at the meeting.