State Commission for Constitutional Reform holds closed meeting
By Ana Robakidze
Tuesday, May 13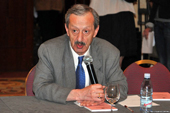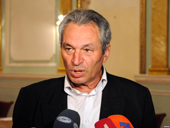 State Constitutional Commission gathered once again to review possible legal amendments to promote better separation of power and more effective formation of the government. The commission has been working on a draft of Constitutional amendments which changes procedures of formation of the government and naming the Prime Minister and cabinet members. The state commission is going to hold several meetings before it forms the final draft of the possible constitutional amendments.
"The major goal is to balance the relations between the government, parliament and the president and to start-up a new mechanism which would allow these three state institutions to collaborate with balanced power," Chairman of the commission, MP Vakhtang Khmaladze said before the session.
The commission session was devoted to the standards the prime minister and his cabinet members should meet, and to the mechanisms parliament could use to control the government. Also the commission is working on the issues related to trust and distrust in government. According to Khmaladze's decision the commission session was held behind closed doors.
Constitutional Law expert Avtaandil Demetrashvili believes the commission should consider an alternative package of amendments. Demetrashvili told the INP news agency that the draft prepared by Khmaladze will not improve the Constitution.
"I do not agree with the project presented by Khmaladze, neither do I agree with the procedures of forming the government," Demetrashvili said. He supports only partial amendments in the Constitution.
According to the Constitution, the president does not hold any discretionary power to form the government and he is absolutely neutral in the process. However, in the new draft offered by Khmaladze, the president receives discretionary power to present a candidate for the Prime Minister's post. Therefore, he receives increased power. Demetrashvili says in the current state formation, the president should not have a chance to form his own government.