Mixed response to defense minister's proposal
By Messenger Staff
Tuesday, May 13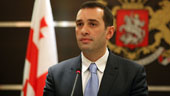 During his recent visit to the United States, Georgian Defense Minister Irakli Alasania stated that in response to Russian activities in Ukraine, NATO should deploy defensive arms in Georgia.
Alasania was quoted as saying "this is what Georgia needs and the Russians will understand that you are not joking." This statement caused some controversy both inside and outside the country. Some analysts suspect that Alasania's position was not agreed upon with Georgian Dream coalition members prior to his visit.
This proposal could be understood as an attempt by Georgia to find an effective way to bring itself closer to the alliance. Many believe that Georgia will not be granted MAP in September during the NATO summit. Therefore, under these circumstances, a NATO decision to deploy defensive weapons in Georgia would strengthen Georgia's position and create solid guarantees for Georgia to protect itself from further Russian aggression.
Some high-ranking officials from the Georgian Dream coalition emphasized that Alasania should have received government's endorsement before making such a request.
Vice-Speaker of the Georgian Dream Manana Kobakhidze stated on May 8 that we should be more careful while making such statements. President Margvelashvili commented that such issues should be discussed within the National Security Council.
In response to these comments, Alasania stated that some members of the coalition do not seem to understand the real threat Europe and Georgia face from Russia.
Georgian military analysts assessed the statement made by Alasania positively. Although, they remain skeptical about the deployment of defensive weaponry in Georgia.
Meanwhile, British Foreign Secretary William Hague has suggested that Georgia's safety could be secured without deploying NATO defense capabilities in Georgia.
All these speculations stemming from the Defense Minister's statement indicate that the Georgian government lacks a cohesive position on this matter.