Meeting with U.S. Secretary of Defence
Thursday, May 15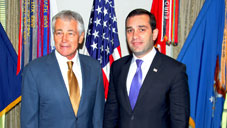 Within the working visit to the US, Secretary of Defence Chuck Hagel hosted Georgia's Minister of Defence Irakli Alasania at Pentagon. At the meeting Defence Ministers discussed U.S.-Georgia bilateral cooperation issues in defence sphere and spoke about future prospects. Secretary Hagel reaffirmed the importance of the U.S. partnership with Georgia, and pledged to continue strong defence cooperation.
At the meeting with the U.S. Secretary of Defence, Irakli Alasania overviewed the progress in Georgia's defence transformation. He emphasized the reforms made in transparency, accountability, the NATO BI program, as well as in parliamentary oversight and cooperation with NGOs, procurement transparency and internal audit. Secretary Hagel encouraged Georgia to continue the progress it has made on defense reform and NATO interoperability. He thanked Minister Alasania for Georgia's contributions to the International Security Assistance Force mission in Afghanistan.
"The meeting with U.S. Secretary of Defence was very productive. We continue to discuss the steps the US and Georgia should make for increasing Georgia's security and defence capability. I'd like to outline that we have made progress in this direction and this meeting once more confirms that the strategic partnership in the defence and security sphere between Georgia and US is strengthening," stated Irakli Alasania following the meeting at the Pentagon.