Prime Minister Visits 5th Infantry Brigade
Thursday, May 15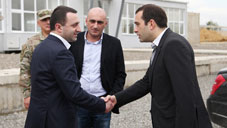 Prime Minister of Georgia Irakli Garibashvili visited the Fifth Infantry Brigade in Gori. Irakli Garibashvili was hosted by the Minister of Defence of Georgia Irakli Alasania who introduced the infrastructural development projects to him. The Prime Minister visited the barracks, classrooms, got acquainted with the living conditions of the soldiers and talked to them. He also viewed the newly built mess hall and menu of the military.
The implementation of various infrastructural projects, including the asphalting of the territory and construction of a new sports hall are scheduled for 2014-2015. The prime minister pledged to support the implementation of these infrastructural projects.
Deputy Defence Minister Aleksi Batiashvili, Chief of General Staff of the GAF, Major-General Vakhtang Kapanadze and Commander of the Fifth Infantry Brigade LTC Shavlego Tabatadze accompanied the Defence Minister at the military base.
The Minister of Defence of Georgia outlined the importance of providing the best conditions for the soldiers: "The Fifth Infantry Brigade located near Gori is of the utmost importance for the GAF. The prime minister visited one of its battalions, got acquainted with its infrastructural development, its new mess hall that meets high standards, also saw how our soldiers live and feed. He pledged to support the development of its infrastructure. I would like to thank everyone who participated in this process. We all should know that soldier, officer and sergeant are the main values of the Georgian Government. The visit of the Chairman of the Georgian Government was proof of this," Alasania said.