Executive Defence Course
Thursday, May 15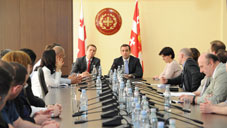 The official opening ceremony of the Executive Defence Course was held at the Defence Ministry of Georgia. Defence Minister of Georgia Irakli Alasania addressed the participants of the course and wished them success.
"The course is very important, as the representatives of the MoD, Armed Forces, as well as governmental organizations, NGOs and the media, should realize the challenges the region faces. The seminar, including intellectual debates on how to overcome the challenges is being held with the support of our Estonian partners. The course was being held for the third time and we'd like to make it a tradition. The seminar gives us the possibility to talk about how to strengthen NATO and decrease the threat from Russia."
Permanent Secretary of Defence of the Estonian Ministry of Defence, Mikk Marran also delivered a speech to the participants and highlighted the importance of the course.
"This course started in Estonia in 1999. More than 1,300 people have participated in this course in Estonia. It has been a wonderful experience for us. It is very important to have many people around the table from many different professions –politicians, officers, NGOs, and the private sector to listen to the people who are making decisions in Georgia right now; to ask questions and to have a good discussion."
The seminar will last for five days and will take place at the Ambassador Hotel in the Kakheti region. The heads of departments of the various institutions, representatives from the legislative, non-governmental, commercial and media sectors are among the participants of the course. During the Executive Defence Course the participants will get acquainted with the national defence and security system, the ongoing reforms and get answers regarding important issues. The participants will also discuss the topics including the challenges of the international security system, the formation of the national security system and its priorities, the upcoming NATO Summit, Georgian defence system transformation, the national security system and civil support, as well as Georgia-Russian relations.
NATO Secretary General's Special Representative for the Caucasus and Central Asia James Appathurai will contact VTC with the participants and highlight NATO's position on Georgia's aspiration. In parallel, the participants will also work on the simulated crisis scenario.
High rank officials, international experts of security sphere and the representatives of civil society are the speakers of the seminar.
Executive Defence Course is formed in Georgia according to the courses adopted in Scandinavian and Baltic countries. The seminar is held in Georgian for the third time under the support of Estonian Defence Ministry. The course is organized by NATO PDP and Strategy and Leadership Center of Georgian MoD.