Veterans Mark Victory Day
Thursday, May 15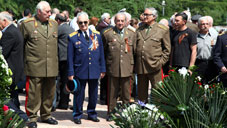 Georgian veterans marked Victory Day over fascism in Vake Park. Prime Minister of Georgia Irakli Garibashvili went to Vake Park together with Patriarch Ilia II to celebrate the 69th anniversary of victory over fascism. President of Georgia Giorgi Margvelashvili, Deputy Chief of General Staff of GAF, Colonel Giorgi Kbiltsetskhlashvili, as well as the members of the Georgian parliament and governments were in Vake Park to congratulate the veterans on this special day.
The representatives of the Georgian executive and legislative bodies laid a wreath on the tomb of an unknown soldier. Prime-Minister Irakli Garibashvili addressed the veterans and spoke about the Georgian Government's chief priorities – taking care of veterans.
"If we have the ambition to become a modern state, we have to take care of our veterans. The Georgian government works hard to create better conditions for the veterans. The government allocated a 400 GEL allowance for the veterans for this day and a 200 GEL allowance for the families left without a bread-winner from World War II. We realize that this is not enough, but we do our best to provide them with better living conditions. We are obliged to improve their healthcare. In this respect, the state program of healthcare covers 100% of the costs for medical services for the veterans," outlined Prime Minister.
President of Georgia Giorgi Margvelashvili emphasized the veterans' contribution to World War II.
"I'd like to congratulate everyone – Georgian brave veterans, our citizens and all people all over the world on the Victory Day. These heroes put an end to the most horrible period – the fascism on the 9th of May 69 years ago. Once more I would like to express my gratitude to the veterans for everything they have done for the entire world."
Military band of Defence Ministry of Georgia accompanied the Victory Day on Fascism held in Vake Park. Honor Guard of the MoD also attended the tribute paying ceremony at the tomb of an unknown soldier.