Soldiers of 31st Battalion Returned to Georgia
Thursday, May 15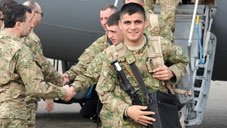 The 31st Battalion of the III Infantry Brigade of the GAF has fully returned to Georgia. The last group of the Battalion staffed with 150 soldiers arrived in Georgia this morning.
Deputy Chief of General Staff of the GAF, Colonel Giorgi Kbiltsetskhlashvili, and Commander of Operative Group West of the Land Forces Command, Colonel Besik Gopodze and Commander of III Infantry Brigade, LTC Malkhaz Merlani greeted the peacekeepers at Alekseevka airport. They congratulated the soldiers on a peaceful return to their homeland and wished them a successful fulfillment of the mission.
The personnel of the 31st Battalion carried out the ISAF mission under the U.S. Marines in the province of Helmand in Afghanistan for 7 months. The Georgian contingent performed the full spectrum of operations. Their main task was to conduct patrols in their operational area and set-up mobile control posts for the security of the local population.
Soldiers of the 31st Battalion are now being replaced by the military personnel of the 23rd Battalion of the 2nd Infantry Brigade in Afghanistan.