EU and Georgia will sign Association Agreement in June
By Ana Robakidze
Thursday, May 15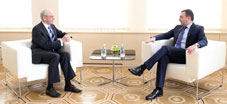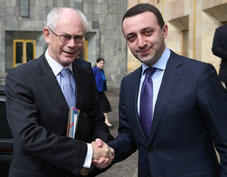 Georgia and the European Union will sign the Association Agreement, including the deep and comprehensive free trade treaty on June 27th, 2014. The date was revealed by President of the European Council Herman Van Rompuy, who visited Georgia on May 13th. Before arriving in Tbilisi, he visited Ukraine and Moldova.
Speaking at a joint news conference after the meeting with Prime Minister Irakli Gharibashvili, Van Rompuy said that after signing the agreement, the EU and Georgia will enter a new phase of the cooperation.
"This important milestone will mark the beginning of a new phase in our relations and in the history of your country. By choosing this path, Georgia is signalling its commitment to strong democratic institutions, respect for the rights of its citizens, and firmly upholding the rule of law," the president of the European Council stated.
The Georgian PM said that joining the European family is a cornerstone of the country's domestic and foreign policy and it is the choice of the Georgian people. The PM promised Van Rompuy that Georgia would continue with the wide range of reforms to meet the requirements the EU sets for its member countries.
"We understand that the association process is very laborious, requiring wide-ranging reforms; so we are ready to further intensify our efforts in this regard," the PM said.
Van Rompuy expressed his appreciation for the government's efforts to implement an ambitious reform agenda and to achieve the impartiality of the judiciary and the fight against abuses. He also welcomed the anti-discrimination law recently adopted by the Georgia Parliament.
"Modern societies defend human rights and the dignity of all human beings, irrespective of their skin color, religion, gender or sexual orientation. This is not about 'traditional values' or 'European values'. It's about universal human values. By adopting the anti-discrimination law, Georgia has demonstrated that it shares those values and is prepared to defend them, to the benefit of all citizens," Van Rompuy said
After the face-to-face meeting between the PM and the president of the European Council, the parties continued talks in extended format and discussed the prospects of signing the EU Association Agreement. Gharibashvili said his government is ready to prepare the basis for the effective implementation of the EU Association Agreement.
The Association Agreement will be signed in Brussels. PM Gharibashvili will represent the Georgian side at the ceremony.