UN High Commissioner visits Georgia
By Ana Robakidze
Wednesday, May 21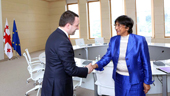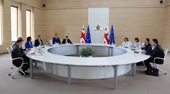 The UN High Commissioner for Human Rights Navi Pillay is paying an official visit to Georgia. She arrived in Tbilisi on May 18th to discuss the human rights situation in the country.
Pillay already met Georgian Prime Minister Irakli Gharibashvili, who informed the UN Commissioner of the current situation in Human Rights protection in Georgia and the methods the government is going to use to better protect of the citizens' rights.
Gharibashvili said at the meeting that based on the recommendations of EU special representative, Thomas Hammarberg, as well as the UN and other local advocates of rights, the authority developed the national strategy of protecting human rights and action plan, which was approved by parliament.
"The government of Georgia places great importance on the rights and freedoms of its own citizens," the PM stated at the meeting.
The parties agreed that the situation has improved since the parliamentary elections of 2012. The UN High Commissioner also focused on human rights protection and humanitarian problems in the conflict regions.
Pillay also had a bilateral meeting with Georgian Foreign Minister, Maia Panjikidze. According to the ministry's press center, Panjikidze informed the UN Commissioner about the measures taken recently by Georgia in terms of the protection of human right and freedoms in the country and focused on the troublesome situation in the occupied territories in Georgia.
The UN High Commissioner will stay in Georgia through the 21st of May with a view to render assistance and provide recommendations to the Georgian side. Pillay will also meet President Giorgi Margvelashvili, and representatives of the cabinet. She will also hold discussions with the Chairman of the Supreme Court, the Chairman of the Parliament, and the Public Defender, as well as with civil society representatives, the UN country team and members of the international community. At the end of her visit the High Commissioner will hold a press conference.