EU provides Georgia with additional financial aid
By Ana Robakidze
Friday, May 23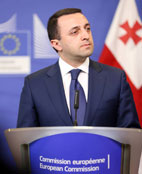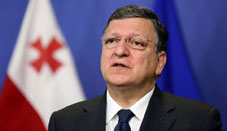 European Union will provide Georgia with 19 million EUR of financial aid.
The financial agreement was signed by Georgian Prime Minister Irakli Garibashvili and President of European Commission Jose Manuel Barroso in Brussels. The agreement is a part of EU Comprehensive Institutional Building (CIB) program, which was developed by the EU to help partner countries strengthen the capacities of key institutions involved in preparing, negotiating and implementing association agreements. The instrument also considers improving the activities of those institutes which are related to the issues of a facilitated visa regime, a readmission agreement and migration. In 2011-2013 Georgia received a 30.86 million EUR aid package within the CIB program. The next stage of the assistance in 2014-2020, is particularly connected with the implementation of DCFTA (Deep and Comprehensive Free Trade Area).
Before signing the agreement, members of the European Commission and the Government of Georgia held a meeting to discuss the domestic and security situation in Georgia and in the Caucasus region.
Following the meeting, the European Commission and the Government of Georgia released a Joint statement and emphasized that Georgia and the EU continue their unique relationship.
"The EU and Georgia reiterated their shared common objective of a democratic, stable and prosperous Georgia and looked forward to the early signature of the EU-Georgia association agreement to reinforce EU-Georgia relations and boost prosperity, trade and investment."
The statement says that both sides welcomed the finalization of the association agreement as a set of jointly agreed priorities for the period 2014-2016 that will help prepare Georgia for the successful implementation of the agreement. Georgia underlined that the association agreement is not the final goal in the EU and Georgia's mutual cooperation. The commission recognizes far-reaching reforms in the justice sector and welcomes the adoption of anti-discrimination legislation and of the National Human Rights Strategy and Action Plan. However, it also notes that it is important for Georgia to take further steps to sustain the positive results of these reform efforts, including measures to strengthen the independence of the judiciary, as well as the accountability and democratic oversight of law enforcement agencies.
The statement also reaffirms the EU's commitment to peace, stability and conflict resolution efforts in Georgia. "Both sides acknowledged the importance of an active engagement policy, fully respecting Georgia's territorial integrity. The European Commission and the Government of Georgia agreed on the need to engage more actively with the Georgian regions of Abkhazia and Tskhinvali region/South Ossetia with an emphasis on identifying pragmatic solutions."
The parties also underlined their full commitment to the Geneva International Discussions and welcomed the continued support shown by EU Member States for the EU Monitoring Mission in Georgia and emphasized its contribution to the stability of the country.