Georgia marks Independence Day
By Ana Robakidze
Tuesday, April 27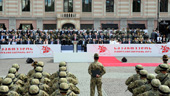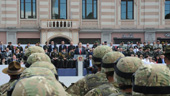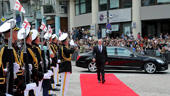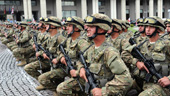 Various public events, including exhibitions, and concerts were held in Georgian towns to mark the Independence Day on May 26.
Unlike previous years, the government decided that the event would not be marked with a military parade. Only a military oath-taking ceremony was held at Freedom Square in Tbilisi.
President Giorgi Margvelashvili, Prime Minister Irakli Gharibashvili and Defense Minister Irakli Alasania delivered speeches.
"May 26 is the most important date for Georgia. Our history embodies the selfless and uncompromising fight of our great ancestors for the homeland. The freedom and independence of the homeland constitute the idea and the firm foundation that has carried the Georgian nation through centuries," Georgian Prime Minister, Irakli Gharibashvili said in his congratulation address to the Georgian people. He said independence is a great achievement and it is Georgians duty to protect the country's sovereignty at any cost and promote it on the democratic path.
"We have a great history. Historically, we are part of Europe. This is why we must build a European democratic state, as befits our country and our people. The strength of a democratic state lies primarily within its democratic institutions, and it is the obligation of the state to develop and promote them. The state must ensure the rule of law and the equality of all citizens before the law," the PM said.
According to Gharibashvili, May 26th was special this year, as Georgians celebratedIndependence Day with a new hope for joining the European family. "We are about to take the most important step on our path to Europe. In exactly one month, we will sign the Association Agreement and become an EU associate member. I believe that Georgia - from the cultural, historical, and political points of view - will become an honorable member of the European family," the PM stated.
Georgia received congratulatory messages from the U.S administration. In his letter, President Barack Obama praised Georgia for its commitment to democratic values and promised to continue supporting the country on its path to economic and democratic development.
The first democratic government of Georgia,the National Council,signed the declaration of independence on May 26th, in 1918 and restored Georgian statehood after 117 years of Russian rule. However, independence could be maintained for three years only, before 1921, when the country became occupied by the Soviet Red Army.