A warning from Russia
By Messenger Staff
Tuesday, May 27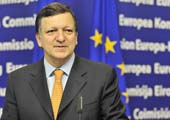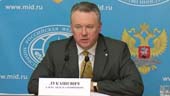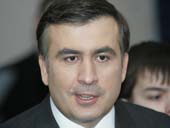 Just prior to signing the Association Agreement with the EU, Moscow aired a warning to Tbilisi. The signing of the document is envisaged for June 27, and President of the European Commission Jose Manuel Barosso assured Georgia's leaders, as well as the international community that Moscow promised not to interfere in Georgian-EU relations. Georgian Prime Minister Irakli Gharibashvili also expressed his position while visiting Brussels, saying that the signing of the document will definitely take place.
Several days after the PM's statement, Russian Foreign Ministry spokesman Aleksander Lukashevich said that signing the AA with the EU is the sovereign right of Georgia. This statement was tempered however, when he said that Tbilisi should also realize the kind of consequences this step might be followed by.
"This concerns our bilateral relations, as well as the financial and economic results that we will have to elaborate considering Georgia-EU agreement," Lukashevich stated.
He also mentioned that Russia has become Georgia's third biggest trade partner.
Moscow began placing economic pressure on Georgia in 2006. The Kremlin banned Georgian products on the Russian market, aiming to destroy Georgia's economic and financial stability.
However, in 2013, Russia lifted its embargo on Georgian wines, spirits, mineral waters, and some other agricultural products were also returned to the Russian market, quickly regaining their position.
On the one hand, it gave support to Georgian agriculture. However, on the other hand, it became a lever for Moscow to exercise its influence on the situation in Georgia.
This is what is meant under Lukashevich's threat.
Lukashevich also recalled the words of the Defense Minister Alasania when he asked the U.S. Government to support the idea of deploying defense capabilities in Georgia as a demonstration of NATO's support for Georgia. Lukashevich said that while Georgia is trying to enter NATO, Tbilisi does ignore the fact that this move could damage the security situation of other countries.
Lukashevich puts a cynical and hypocritical question: against whom will these defence capabilities protect Georgia from?
Russia's subversive actions against Ukraine (though Moscow denies its military forces participate), its occupation of Crimea, pressuring countries not to sign the AA, the Russian war in Georgia in 2008… these all could be considered as important evidence that Russia is up to something.
Nobody should have the illusion that Russia is kind and would be satisfied with the situation in Georgia, while occupying 20% of Georgian territory, and while Mikheil Saakashvili is no longer the state leader.