The Georgian Independence Day in Afghanistan
Thursday, April 29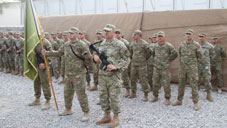 Georgian soldiers celebrated Independence Day in Afghanistan. Special ceremony dedicated to The Independence Day was held at the "Air Force Base", in Kandahar Province. The ceremony was opened with the Georgian National Anthem. Georgian soldiers from the Special Mountain Battalion honored the servicemen who have fallen during ISAF mission.
The Sergeant Major of the GAF Aluda Kopaliani, Assistant of the Defence Minister, Nodar Epremidze and Senior National Representative in Afghanistan, Colonel Joni Tatunashvili also attended the solemn ceremony. They delivered speeches and congratulated with the Independence Day the Georgian troops on behalf of the Minister of Defence Irakli Alasania and the Chief of General Staff, Major-General Vakhtang Kapanadze.
40 Georgian militaries were awarded with the certificate of appreciation for the effective and honest fulfillment of their duties in ISAF mission. Besides, Commander of the Special Mountain Battalion expressed his gratitude to 41 servicemen for their meritorious service in ISAF mission.
One of the Commanders of the Special Mountain Battalion, Ilia Tikurishvili and Georgian Liaison Team member Major Mark Same opened the Memorial of the Georgian soldiers who have fallen in Afghanistan. Battalion Chaplain Father Petre held a special prayer in the memory of the fallen Georgian soldiers and blessed the troops.
After the official ceremony, special reception was held for the invited guests where the Georgian soldiers demonstrated their wrestling skills. Furthermore, battalion soldiers made presentation for the guests about Georgian history, culture, development of modern Georgia towards NATO and EU integration process.