Sharing values to create values
Thursday, April 29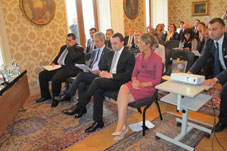 Presentation of the Ferrero Group's 4th Corporate Social Responsibility Report was held on May 23. The event was presented by Ambassador Federica Favi, Prime Minister Irakli Gharibashvili, Purchasing Director of Ferrero Arduino Borgogno, Minister of Agriculture Shalva Pipia, U.S. Ambassador to Georgia Richard Norland and some others.
The report entitled"Sharing Values to Create Value" outlines the CSR strategy developed by the Group. It is led by the CEO, Mr Giovanni Ferrero, and comprises the 10 goals for 2020, the results already achieved and the challenges ahead.
The Ferrero Group has always had Corporate Social Responsibility at the core of its activities, deeply defining Ferrero's business model.
To sum up, Ferrero expresses its Corporate Social Responsibility through 4 pillars:
The products, with their high quality and thus food safety, freshness, sustainable sourcing of the best raw materials, but also strong innovation and smaller portion sizes.
The Ferrero Foundation, which cares for Ferrero's retired employees from a health and social point of view and promotes various cultural and artistic activities. The Social Enterprises, already active in India, South Africa and Cameroon, with the dual purpose of creating jobs in Underprivileged areas of the world and, at the same time, of carrying out social initiatives pertaining to children's education and health.
The educational programme "Kinder + Sport", which aims to facilitate and encourage physical activity for children and adolescents, in order to prevent and combat sedentary lifestyles - a major contributor to obesity.
A common denominator of the 4 pillars is the strict Code of Ethics, which ensures the full protection of human rights, including the fight against child labour, while also respecting the environment by reducing energy consumption and using renewable energy sources, along with an absolute opposition to any form of corruption and wrongdoing.
The report has been externally assured by Deloitte and prepared on the basis of the parameters outlined by the GRI (Global Reporting Initiative), a partner of the United Nations' "Global Compact", which has once again awarded to the Ferrero Group the A + level.