De-facto President of Abkhazia steps-down
By Ana Robakidze
Tuesday, June 3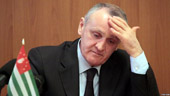 Following the recent demonstrations and political unrest in Abkhazia, de-facto president of the break-away region, Alexander Ankvab decided to resign.
Ankvab announced his decision on June 1. In his written statement the now former de-facto president says that the opposition's actions in Sokhumi can be described as an attempt to overthrow the government by force and in order to maintain stability in the country, he had to resign. Abkhazian Parliamentary Speaker Valery Bganba will be the acting president until the snap presidential elections are held. Ankvab said this struggle for power may bring disastrous consequences for the region.
"In a struggle for power, it is easy to lose scared living space – Abkhazia may no longer exist," Ankvab said in his statement.
A day earlier, Ankvab was declared incapable of fulfilling his duties by the Parliament of Abkhazia. Lawmakers called on snap presidential elections to be scheduled for August 24th.
The Georgian government is carefully monitoring the situation in Abkhazia and says it does not matter how many presidents the region will have to change; none of the elections will be recognized internationally. According to Georgia's state minister for reconciliation and civic equality Paata Zakareishvili, it does not matter who becomes the new Abkhaz leader, it is important to have him negotiating with the officials in Tbilisi.
Following leader Leonid Lakerbaia, the Prime Minister of Abkhazia also resigned. However, cabinet members will retain their posts until the new president is elected.
Russia is satisfied with the peaceful resolution of the Sokhumi crisis and confirms it will continue to provide the break-away region with military and financial support.
"Russia continues to cooperate with Abkhazia in all directions. We are working with the acting president, with the parliament and the reshuffled government of the republic. Russia will provide full financial and military support to the Abkhaz people," President Putin's aide, Vladislav Surkov told the Russia news agency RIA Novosti on June 25nd.
Abkhazia is not the only region receiving full military or political support from Russia. It looks like the de-facto government of South Ossetia, another break-away region of Georgia, is intensifying negotiations with Moscow and once again considering joining the Russian Federation.
Leonid Tibilov, the President of South Ossetia, said in one of his recent interviews that the region may join the Russian Federation in the future. According to Tibilov, he had consultations with the Russian side and his government is waiting for the right time to send a request to the Russian Duma.