Swiss President Burkhalter visits South Caucasus
By Ana Robakidze
Wednesday, June 4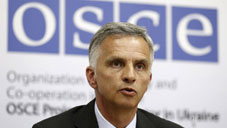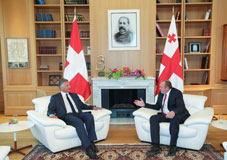 Swiss President Didier Burkhalter is paying an official visit to the Caucasus. After visiting Azerbaijan, Burkhalter, whose country holds the OSCE rotating chairmanship in 2014, arrived in Tbilisi on June 3.
Switzerland is an important partner to Georgia, as it has been acting as a diplomatic mediator between Russia and Georgia since after the August 2008 War. The South Caucasus region, together with the Western Balkans, is identified by Switzerland as its regional priority areas for its OSCE chairmanship in 2014. During his visit, Burkhalter will intensively discuss Georgia's conflicts with the breakaway regions of Abkhazia and South Ossetia and the possible extension of the OSCE Mission to Georgia.
Burkhalter already visited Ergneti, a border village near the occupation line with South Ossetia, and participated in an Incident Prevention and Response Mechanism meeting. After the meeting, the Swiss president said that restoring trust and dialogue between the Georgian and Ossetian people is one of the priorities of Switzerland as the OSCE's chair.
"The main goal of our visit is to thank the representatives of the Incident Prevention and Response group for their pragmatic work. This meeting is part of my visit to the Caucasus as the OSCE chairperson. Your work made a deep impression on me, and it will provide stability and security. In my opinion, the most important issue is to remember the needs and rights of the people living along the administrative border," Burkhalter said. He praised the work of the group and said Georgia has been showing a good example of cooperation in conflict management.
In order to intensify relations between Switzerland and Georgia, an agreement on investment protection and mutual assistance was signed by the Swiss president and Georgian PM.
According to PM Gharibashvili, the agreement will help to promote economic and business activities between the two countries.
Before leaving for Yerevan to continue his visit in the Caucasus, President Burkhalter will hold meetings with Georgian President Giorgi Margvelashvili, Foreign Minister Maia Panjikidze, as well as lawmakers from Georgian Dream coalition and UNM opposition party.
He will also visit a project by the Swiss Agency for Development and Cooperation (SDC) which is providing support to families affected by the conflict, according to the Swiss Federal Department for Foreign Affairs.