Break-away region of South Ossetia holds parliamentary elections
By Ana Robakidze
Monday, June 2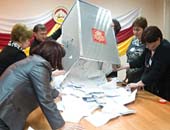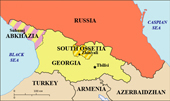 South Ossetia, one of Georgia's breakaway regions, held Parliamentary election on June 8.
Around 200 candidates form nine political parties competed for 34 mandates in the de-facto parliament.
73 polling stations were opened in the region and one in Moscow. Elections are held under the proportional party-list system. As such, a political party will have to clear the 7% threshold to secure mandates in the parliament.
Russian media sources informed earlier this week that more than 90 observers from Russia, the Dniester Republic, Abkhazia, Nagorno-Karabakh, Lithuania, Greece, India, Germany, the United States, Israel and France, would observe the elections. However, this information was denied by the Georgian Ministry of Foreign Affairs.
According to the Georgian Foreign Ministry, none of the international organizations are officially involved in observing the elections in South Ossetia.
"These are illegitimate elections and the international community will not recognize them. I have reliable information that there will be statements made from all relevant international organizations, which do not recognize the election results," Deputy Foreign Minister Davit Zalkaliani told the media.
The list of parties has increased since the last parliamentary election, when only four political entities were running. The following nine parties were competing for parliamentary mandates in the June 8 poll:
• New Ossetia, led by current Foreign Minister of the breakaway region David Sanakoev. The party was established in 2012;
• United Ossetia led by Anatoly Bibilov, Minister of Emergency Situations, who is an eager supporter of joining Russia;
• Nikhas, established in 2013, lead by the close allies of South Ossetian de-facto leader Leonid Tibilov: Interior Minister Akhsar Lavoev and Chief of Foreign intelligence Soslan Gatikoev;
• Unity party is led by Vice-Speaker of Parliament Zurab Kokoev;
• Homeland, which is a new to the South Ossetian politics, the party was established in 2013;
• People's Party, led by MP Alexander Pliev;
• Communist Party, led by Stanislav Kochiev, Speaker of Outgoing Parliament;
• Unity of People, led by Vladimir Kelekhsaev, who was appointed as head of Java district of the breakaway region by de-facto leader Tibilov;
• Fidibasta (Fatherland) led by Vyacheslav Gobozov, head of the state committee for information;
It is really difficult to predict with any certainty which and how many parties will clear 7% the threshold. The parties presented quite similar electoral programs. A majority of them support instant constitutional amendments to ensure the redistribution of powers between the president, the government and the parliament and establishing a system of checks and balances to make ministers more accountable.