Four parties claim seats in de-facto parliament of South Ossetia
By Ana Robakidze
Tuesday, June 3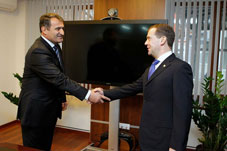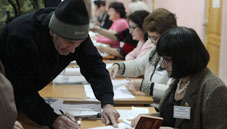 The Central Election Commission (CEC) of South Ossetia reported that four parties out of nine have cleared the 7 % threshold in the June 8 polling.
According to the latest records, the United Ossetia party is leading with over 43.1% of the votes, followed by the Unity of People with 13.2%, People's Party with 9.09% and Nikhas with 7.4%. The CEC recorded 60.4% (21.129 voters) of voter turnout.
Anatoly Bibilov, Minister of Emergency Situations and a leader of United Ossetia party which gained 20 seats out of 34 in the parliament is an eager supporter of joining Russia. In his election campaign Bibilov called to hold a referendum to decide whether the region should join the Russian Federation or not. He told to local media sources that people expect from his party prompt return back to the Russian Federation.
De-facto president of the region Leonid Tibilov has high hopes about the new parliament and says he expects the new lawmakers to focus on strengthening the statehood of South Ossetia and promoting its relationship with Russia. However, the results will be recognized neither by Georgia nor by the international community.
The European Union and NATO made special statements to condemn the illegal elections of the de-facto parliament.
"The European Union supports the territorial integrity and sovereignty of Georgia as recognized by international law. In view of the reports about the elections in the Georgian breakaway region of South Ossetia on 8 June, we recall that the European Union does not recognize the constitutional and legal framework within which these elections have taken place," said the statement released by the European Union External Action Office (EEAS) spokesperson.
NATO Allies do not recognize the Abkhazia and South Ossetia regions of Georgia as independent states. In the official statement, the alliance condemned the elections in South Ossetia and said it does not contribute to a peaceful and lasting settlement of the situation in Georgia.