Adjara Supreme Council MP suspected in putting pressure on a journalist
By Ana Robakidze
Wednesday, June 11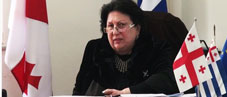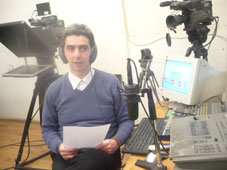 Georgian ombudsman Ucha Nanuashvili calls on the Adjara Supreme Council to study the case of MP Medea Vasadze, who reportedly tried to have pressure placed on journalist Jaba Ananidze from TV25.
Nanuashvili believes there are signs of violating freedom of media representatives and he is going to issue a report after carefully studying the situation.
"With Highest Comfort", a film created by Ananidze was the reason of future conflict between the journalist and MP Vasadze. The film aired by TV 25 is footage of the investigation on members of the Adjara Supreme Council, their work and budget expenditures.
On June 9, Ananidze said he received a phone call from Vasadze and she tried to threaten him. The audio recording of the phone conversation was aired by TV 25, where reportedly MP Vasadze tries to put pressure on the journalist and says she is starting to "work against him."
Vasadze confirmed that she had a phone conversation with TV 25 journalist. However she denies all facts of putting psychological pressure on him and says the audio recording was fabricated.
The Young Georgian Lawyer's Association, which carefully monitors human rights violations in the country issued a statement and said Ananidze's professional rights to work free as a journalist, were violated.
"The phone conversation between Ananidze and Vasadze is proof of pressure on a journalist to make sure he will never prepare any critical material on the Adjara Supreme Council activities. The fact is a gross violation of media freedom and it is incompatible with democratic values." the statement says.
Ananidze is going to address the prosecutor's office and file a lawsuit against Medea Vasadze.