Second round of elections likely
By Ana Robakidze
Tuesday, June 17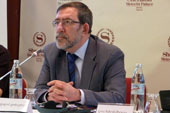 Early results of the June 17th self-government polling in Georgia predict a second round run-off in eight cities out of twelve. Despite the fact that the Georgian Dream Coalition candidates lead in absolute majority of self-governing cities, they still failed to claim 50% + 1 vote to win the election.
The election process was monitored by local, as well as international observers, who claim that the elections can be assessed as calm and democratic, only with minor complains filed to the central Election Commission (CEC). Several facts of pressure, arguments and clashes were reported from various regions of Georgia.
Commenting on the Sunday polling, EU Ambassador to Georgia Philip Dimitrov and Ambassador of the Republic of France Renaud Salins said the overall assessment of the election was positive.
"According to my information, the voting process was conducted in an acceptable manner. Although I repeat that it is still too early to evaluate the results. Wait for the final data," Salins said.
Jos Wienen, head of the Council of Europe observer mission praised the CEC for its work during the election campaign and the polling day. However, he also noted that the election law still needs some improvement and members of the election commission have to have some more training. Wienen believes the legislation puts the ruling power into a privileged position.
Georgian Young Lawyers Association (GYLA) one of the largest NGOs in the country, which has been monitoring elections for about 20 years now, said the electoral process was mainly calm.
"Despite a number of violations, the electoral process was mainly calm. Voters had the possibility of freely expressing their will. In a majority of cases the election administration was adequately responding to the remarks given by GYLA observers and was subsequently eliminating the electoral violations. In case of elimination of a violation after a remark, as a rule, GYLA observers do not write complaints. Grave violations were not widespread." GYLA said in its evaluation of the polling.
The organization observers submitted 150 complaints and wrote 127 remarks in the electoral logbooks. The complaints and remarks mainly related to violations relating to the procedure of casting ballots, problems related to filling out the control sheets and the presence of unauthorized persons at the polling stations.
The Georgian Public Defender's office also recorded a number of violations and incidents in the polling stations and urges the responsible state institutions to investigate the cases. However, the overall assessment from the ombudsman Ucha Nanuashvili is quite positive. He believes the election process was compatible with internationally accepted standards.