U.S, UK and Dutch Embassies assess the elections in a joint statement
By Ana Robakidze
Wednesday, June 18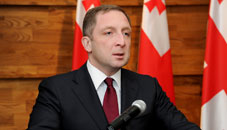 The pre-election environment in the majority of electoral districts was calm and only minor complaints were registered. Overall it was a successful and well-administered election day, the embassies of the United States, United Kingdom, and the Netherlands said in their joint statement on June 16.
The embassies say the Georgian voters had a chance to directly elect all mayors and gamgebelis (municipal executives) and this is a great asset to the local governance. They positively assess the strong performance by the opposition parties and say second round elections in several localities demonstrates the growing pluralism in Georgian democracy.
"This represents an historic step in strengthening local governance, and constitutes an important development ahead of the signature of an Association Agreement with the European Union on June 27," the statement says.
However, the embassies are concerned with reports of campaign incidents and allegations of pressure on candidates to withdraw and of aggression toward election officials in certain specific locations.
"We encourage the government to objectively investigate these allegations ahead of the second round of voting and to take any necessary steps to ensure that Georgia's elections meet the highest international standards. We will continue to observe the process closely, including the campaigning yet to come and the run-off elections. In the meantime, we encourage all parties to work together to promote Georgia's economic growth, strengthen democratic institutions, and advance Georgia's Euro-Atlantic aspirations." the embassies state.
Commenting on the embassies' joint statement, State Minister of Euro-Atlantic integration, Alexi Petriashvili said the embassies voiced the position of their countries and the positive assessment the elections received is very important for the government.
According to Petriashvili, the June 15 polling was yet another success of Georgia, which is especially important ahead of signing the Association Agreement between Georgia and the European Union, scheduled for June 27.
The second round run-off is going to take place in eight out of twelve self-governing cities of Georgia. According to the Central Election Commission the polling should be held by the end of July.