Serzh Sargasyan is positive about Georgia signing AA
By Tea Mariamidze
Friday, June 20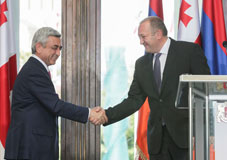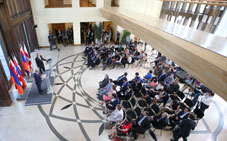 The president of Armenia Serzh Sargsyan and his delegation paid an official visit to Georgia on June 18. The Armenian President has already met with President Giorgi Margvelashvili, Chairman of the Parliament Davit Usupashvili and other officials. The presidents held a joint press conference, where they discussed the details of their meeting, concerning current relations between Georgia and Armenia, Georgia signing the association agreement with the EU, Armenia entering the Eurasian Union and so on. The Armenian President also stressed that restoration of the Abkhaz railway, through which Russia and Armenia might link, is very important for Armenia. However, he admitted that it is a complicated issue that requires the involvement of various political sides.
The both Presidents stressed that signing the AA with the EU on Georgia's side and entering of the Eurasian Union by Armenia will have a positive effect on the countries' trade relations.
"As we know, our neighbors are joining the Customs Union soon and Georgia is signing the AA; I want to emphasize that these steps will have a positive influence on both countries. We have the same vision in all directions," Margvelashvili noted.
The President of Armenia also made a comment. According to him, when Georgia signs the AA, it will become part of a free trade zone and this will be an extra opportunity for Georgia, as well as for Armenian entrepreneurs, who want to make investments.
"We always respect each other's decision. We welcome the efforts of Georgia. The most important is co-operation, trade and commercial relations between Georgia and Armenia," Sargsyan stated.
He also added that, any conflict can be resolved through peaceful means and within the principles of international law.
In the end, the Armenian President thanked Margvelashvili for organizing the Gala Concert dedicated to the 300th birthday of the famous Georgian-Armenian poet Sayat-Nova.
The Parliament Chairman Davit Usupashvili stated that the two countries understand and respect each-other's decisions.
"Georgia and Armenia need to work together a lot. Being in different directions and in different trade unions will not make our relations worse, just on the contrary. We must strengthen these relations, because we both are well aware that we cannot maintain security and stability without each other," said the Chairman.
Concerning the Abkhaz Railway, Minister of Economy Giorgi Kvirikashvili said that the issue was not discussed during his meeting with the Armenian President. Minister of Reintegration Paata Zakareishvili said that the issue requires a special format and regulation of various issues with Russia.