The government to limit salaries and bonuses of state officials
By Ana Robakidze
Tuesday, June 24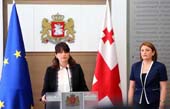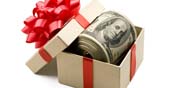 The Georgian government will elaborate a unified rule for all public bodies to establish a maximum level of salaries and bonuses for public officials.
At the special briefing held on June 23 by the deputy Chief of the Prime Ministerís administration Nino Kobakhidze and Chief of the Public Service Bureau Ekaterine Kardava, it was announced that the draft of the project will be presented to the cabinet at the meeting scheduled for June 26.
The administration has been working on developing the structure of wages and official salaries that are flexible, based on the principle of fair distribution and corresponding to European standards.
The recent facts of receiving large bonuses by high-ranking officials had caused negative feelings among society. Therefore, the government decided to regulate the problem.
"Due to the great interest of the society, with the prime minister's instruction, this issue is being worked on by the administration and public service bureau of the government of Georgia, the rule of giving bonuses has already been developed... It is worth to mention that in developing the bonus rule, we considered the experience and practice of leading European countries and of course we adapted it the Georgian setting," Kobakhidze stated.
The new rule offered by the government will define not only the limits of the remuneration, which should not exceed the actual salary of the official, but also the list of officials who will be authorized to issue bonuses.
"This concept is the result of year-long discussions and it considers absolutely innovative approaches. It was developed with the initiative of the government of Georgia and the support of the US development agency (USAID). The special commission consisting of foreign experts as well as Georgian scholars and practitioners worked on developing the project,Ē Kobakhidze stated.
The PMís administration plans to present the final version of the project to society on July 1st.