Israeli Minister of Agriculture and Rural Development arrives in Georgia
Tuesday, June 24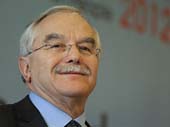 The Israeli Minister of Agriculture and Rural Development, Yair Shamir paid a visit to Georgia on June 23-24 at the official invitation of Georgian Minister of Agriculture Shalva Pipia.
Pipia and Shamir signed an agreement between the Georgian and Israeli governments on the cooperation in the sphere of agriculture, the ministry told Trend. Also, Georgian-Israeli business forum will be held during the visit. The members of the official delegation of Israel, representatives of the Agriculture Ministry, Investment Agency, Chamber of Commerce, and other officials will attend the event.
During his visit to Georgia, the Israeli minister will also held meetings with Georgian Prime Minister Irakli Garibashvili and Minister of Regional Development and Infrastructure of Georgia Elguja Khokrishvili . Shamir will also examine poultry enterprise which established at the expense of Georgian-Israeli investment.
(trend.az)