Defence Minister at the Second Annual British Georgian Seminar
Thursday, June 26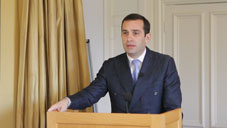 Defence Minister of Georgia paid a two-day visit to the United Kingdom of Great Britain and Northern Ireland. Irakli Alasania participated in the Second Annual British-Georgian Seminar at Clare College at Cambridge.
The Defence Minister delivered a speech to the panel "Challenges to European Security: the Georgian Perspective." At the beginning of the speech, Irakli Alasania talked about the bilateral relations between Georgia and the United Kingdom. Georgia's Euro-Atlantic aspirations and prospects at the upcoming NATO Summit were the main topics. Irakli Alasania also highlighted the importance of signing the Association Agreement for Georgia. The Defence Minister referred to the Ukrainian crisis and the ways to maintain stability and security in Eastern Europe.
He also outlined the fulfilled and planned reforms in Georgian defence sphere in order to build highly professional Armed Forces. The Georgian MoD aims to establish a modern army that is interoperable with NATO. The minister underlined that the Defence Ministry of Georgia achieved important progress in enhancing civilian control and transparency. Georgia's contribution to NATO and EU-led international missions was one of the topics in the minister's speech.
"Georgia's aspiration to EU and NATO membership was the topic in the panel discussion held under the aegis of Georgia-British Society. We also referred to the bilateral cooperation issues between Georgia and the UK. We spoke very openly about Georgia's contribution to European and Euro-Atlantic security. It's very essential that NATO and EU appreciate this and make step forward for Georgia at the upcoming summit. We feel that Georgia has carried out all criteria in bilateral and multilateral relations. Most attendees of the seminar consider this and I'm sure this will be depicted positively at the upcoming NATO Summit", stated Irakli Alasania.
Alasania also participated in the panel discussion "Wider Black Sea Region: Prospects for Georgia, Ukraine and Eastern Neighborhood Partners". He emphasized the stability environment in the Black Sea Region for European security. During the speech, the minister outlined three main aspects: regional security, democratic values and enlargement, as well as energy hub.
Former Special Representative of the UN Secretary General in Georgia, Ambassador Dieter Boden, Commander of the 11th Armored Brigade of the British Army, General Sir Garry Johnson, the UK's former Special Representative for the South Caucasus, Sir Brian Fall and Political Scientist specializing in Eastern Europe, Dr Andrew Wilson were members of the panel discussion as well.