Georgia still hopes to benefit from NATO Summit in Wales
By Ana Robakidze
Friday, June 27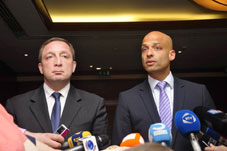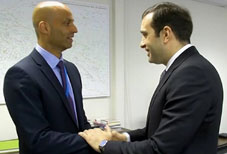 NATO Secretary General's Special Representative for the Caucasus and Central Asia, James Appathurai, advised the Georgian government to stay positive as the country is gradually approaching the Alliance.
The statement made by Anders Fogh Rasmussen, the Secretary General of the Alliance, that Georgia will not be granted Membership Action Plan (MAP) in September, caused a great disappointment in the country.
"I know the decisions taken by NATO Foreign Ministers here in Brussels have triggered a lot of discussion in Georgia. I think 2 points are important. First, at the Summit in Wales, we will put in place an unprecedented package, connecting Georgia to NATO more deeply and more substantially than it has ever been before – and, I believe, more than any other non-NATO country… Second, we still have to begin negotiations on the Summit Communique, which I am sure will reconfirm the Bucharest commitment that Georgia will be a NATO member, and clarify the progress Georgia is making on that path," Appathurai wrote on his Facebook page, later on June 25th.
He added that Georgia may not be taking giant leaps towards NATO but, as a result of the hard work and good diplomacy of the Georgian government, present and past, the country is definitely moving forward at a steady pace.
Georgia's state minister for European and Euro-Atlantic integration, Alexi Petraishvili, believes that a number of NATO member states still are pursuing a moderate approach towards the organization's enlargement. Therefore, there is no readiness to start actual membership talks with Georgia.
"We should achieve a maximum in the condition of this existing moderate approach, so the work will continue… Nothing will stop us, we will join NATO faster than others," Petriashvili told journalists on June 25th. The Minister is sure there is no reason for frustration and Georgia will manage to benefit as much as possible from the Wales Summit.
Minister of Defense Irakli Alasania agrees that Georgia is not yet ready for NATO membership. Speaking at the press conference after his meeting with the Latvian counterpart, Alasania said Georgia needs several years to become a full-fledged member of NATO and that it requires improvement in the political system, security and defense capabilities of the country.
It was announced at the NATO ministerial that based on ministers' decision, instead of the hope for MAP, Georgia will receive a substantial package, developed especially for the country.