Georgia will not raise goods' transit fee due to European integration – Armenian expert
Monday, June 30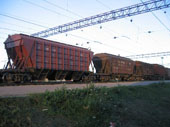 Georgia will not raise its goods' transit fee due to its European integration, Armenia-based Trans Logistic Caucasus company director Yeghishe Hovhannisyan told Armenian News - NEWS.am.
In his words, moreover, this will not apply to automobile transit of goods because, with a joint agreement between Armenia and Georgia, a transit fee is not charged on automobile-based transit of goods.
Hence a raise in the goods' transit fee applies solely to railway-based transportation of goods.
"And the tariff increases here [in the railway-based transportation of goods] are independent of politics; this is a general trend in the CIS countries.
"And it is not beneficial—purely in the economic sense—for Georgian railways to raise the tariffs too much.
"In recent years, we have transported lot more products from railways to automobile," Hovhannisyan concluded.
As reported earlier, on Friday Georgia signed an association agreement with the European Union.
(news.am)