Swedish FM visits Tbilisi
By Ana Robakidze
Wednesday, July 2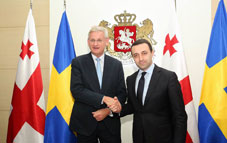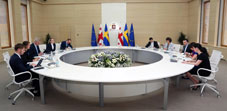 A few days after signing the Association Agreement (AA) between Georgia and the European Union, Foreign Minister of Sweden, Carl Bildt arrived in Tbilisi. He held talks with President Giorgi Margvelashvili, PM Irakli Garibashvili, as well as his Georgian counterpart Maia Panjikidze and the representatives of the opposition.
Speaking at the press conference after the meeting with his Georgian counterpart, Bildt said Georgia had overcome many challenges to reach a new point in its relations with the European Union, but there will be even more obstacles in the future.
"We have now arrived at a particular point when the relationship between Georgia and the European Union enters a new and more promising and more important stage…The deals may remain on paper. Believe me, there are many agreements that are inked only on paper, but the Association Agreement (AA) with the EU is the follow-up of Georgia's economic modernization in accordance with EU standards," Bildt said.
He stressed the importance of proper implementation of the AA, which the Swedish Minister believes will open up significant opportunities for Georgia's economic development.
During Bildt's meeting with the Georgian PM and president, various issues were discussed concerning the cooperation between Georgia and the European Union, and namely the implementation of the Association Agreement. A wide range of issues concerning bilateral and multilateral cooperation were also discussed focusing upon the prospects for economic cooperation, as well as upon the Swedish international development cooperation agency's role in the process of Georgia's institutional and economic development.
The Swedish official underlined his government's readiness to render relevant assistance to Georgia for the implementation of its Association Agreement with the EU and to pursue efforts towards economic integration. Bildt also discussed the current situation in the occupied parts of Georgia.
According to the Swedish Embassy in Georgia, Minster Carl Bildt's visit was a further sign of Sweden's clear support for Georgia's European aspirations. Bildt arrived in Georgia after visiting Moldova. He will also travel to Ukraine.