No Georgians injured in attacks between Israel and Palestine
By Ana Robakidze
Thursday, July 10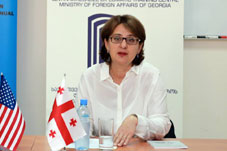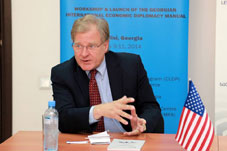 Georgia is carefully following the developments in Israel and is keeping in constant contact with its citizens in Israel. According to Foreign Minister Maia Panjikidze there are no reports of any Georgian citizens being injured or killed in the recent attacks between Israel and Palestine. She said the Georgian Embassy and Consulate in Israel are ready to help Georgians in the case of any danger.
"Of course, we are extremely concerned about the spiral of violence in which Israeli forces and Hamas are involved. Rocket attacks took place, and as President Obama and Secretary Kerry said "both sides should realize the consequences of this violence." Georgia itself is not far from this region and of course the question is raised in a timely manner," said US Ambassador Richard Norland at the Ministry of Foreign Affairs, where he was invited to open a workshop on economic diplomacy along with the minister.
Tensions spiked between Israel and Palestine last week after three young Israelis were murdered in the occupied West Bank and a Palestinian teenager in Jerusalem was burned alive as retaliation. Israeli accused Hamas in the abduction and murder of the youths. Palestinians believe the teenager, who was abducted in East Jerusalem, was killed because of his nationality. A sixteen year-old Palestinian was killed in Jerusalem. Reportedly his kidnappers hit him on his head with a blunt object and buried him alive. Police have arrested six Jewish suspects.
Early in the morning, on July 9, Israel carried out dozens of air strikes on Gaza, and Palestinians fired rockets back at Israeli cities. Islamic Jihad, a Palestinian militant group, took responsibility for the rocket fired at Tel Aviv. The group released a statement and said it was a "response to the ongoing Zionist aggression."
Reportedly at least 27 Palestinians were killed and around 70 injured in the hostilities, since Israel launched operation "Protective Edge" on Monday.
Palestinian leader Mahmoud Abbas called on Israel to stop the strikes, and avoid dragging the region into instability and mass destruction, while Israeli officials are determined to fight against Hamas and to ensure the future safety of their citizens. According to Israeli Defense Minister Moshe Ya'alon the security operation against the militant group Hamas probably will not end for several days.