Georgian government pays tribute to Eduard Shevardnadze
By Ana Robakidze
Monday, July 14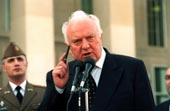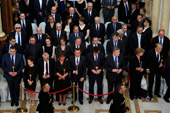 High ranking guests from around 30 states arrived in Georgia to attend the funeral of former Georgian President Eduard Shevardnadze on July 13. The ceremony was attended by the Parliament Speakers of the Republic of Azerbaijan and Armenian, the Austrian Minister of Justice, Japan's Deputy Minister of Foreign Affairs, former German Foreign Minister and Vice-Chancellor Hans-Dietrich Genscher and his wife Barbara Genscher, the former President of the Republic of Estonia Arnold Ruutel and Kyrgyzstan's former President Roza Otumbaev and also by the former United States Secretary of State James Baker, who lead the US delegation.
U.S. Ambassador to Georgia Richard Norland and Deputy Minister of Foreign Affairs Davit Jalaghania met the former U.S. Secretary of State in the airport. According to Jalagania, Baker was very emotional as he was about to attend his friend's funeral.
"Of course, it is a very emotional moment as he is visiting his friend's country. The greeting was full of emotions. In a short conversation he (James Baker) recalled the years when he met Eduard Shevardnadze and when they were cooperating… He also noted that he and Eduard Shevardnadze were not only partners, but also friends," Jalaghania said.
Speaking to the media, Baker recalled his first meeting with Shevardnadze, then Foreign Minister of Soviet Union. Baker said their countries were in a "Cold War" and Shevardnadze put all his efforts to deescalate the tension.
Uniting Germany and helping to end the Cold War, these are the two major achievements of the former Georgian president, all emphasized at his funeral. Former German Foreign Minister and Vice-Chancellor Hans-Dietrich Genscher, thanked Shevardnadze for everything he did for Europe. He said the German people will never forget his merits.
"When we are bidding farewell to Eduard Shevardnadze, I remember that the elimination of the death penalty is linked to his name," Giorgi Margvelashvili said in his speech at the Holy Trinity Cathedral. He said Shevardnadze played a significant role in the world's history and it will be appreciated into the future.
The official part of the funeral ceremony took place in Cathedral of Holy Trinity in Tbilisi. Shevardnadze was buried in the yard of his Krtsanisi Residence, next to his wife.