Low voter turnout at run-off elections
By Messenger Staff
Monday, July 14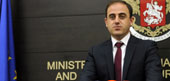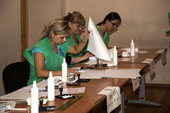 On July 12, the second round of the self-government elections took place in Georgia. Eight mayors and thirteen municipality heads (gamgebeli) were elected. 42 representatives of 7 parties were running in the second round.
The Central Election Commission (CEC) registered very low voter turnout on July 12. This could have been predicted. The situation was even ridiculed after some companies announced a 20% discount for those customers who purchased goods after participating in the voting. The parties highlighted that a good turnout at the polling stations would be a key to any success. However, all the attempts at encouraging Georgians to vote were unsuccessful. The second round recorded an even lower turnout than the first round. More than 65% of voters stayed at home.
One reason for this low turnout is a lack of political culture. Voting is a privilege, and a duty. This is a right that was earned through Georgia's fight for independence. It is a citizen's responsibility to its country. However, this concept is not embraced widely yet in Georgia. Also, it is summer. Many Tbilisi residents are out of the city on holiday. That being said, Georgia is not alone in low voter turnout. Many other western-style democracies suffer from the same malady – especially with regard to local elections.
The Georgian Dream has acknowledged that it may not have lived up to its promises. If this is true, then it is also a failure of the opposition as well. If the voters were disappointed in the government they should have gone to vote for the oppositions, which obviously did not happen on July 12th.
Either way, the run-off elections were held in Georgia for the first time and this was labeled by the GD as an increase in democracy and pluralism. This fact demonstrated that Georgia can claim it is coming closer to European standards. The United National Movement (UNM) challenges this assertion, claiming that the local elections were a step backwards in the sense of democracy, as the Georgian Dream administration exercised pressure on the opposition. This is because the government detained former Tbilisi Mayor Gigi Ugulava who was the head of the UNM election campaign just before the second round of the elections.
Analyst believe that the UNM managed to mobilize its supporters during the first round of the elections but was unable to maintain this mobilization in the second round.
There was of course the move to establish justice in the country and this included the arrest of the former mayor of Tbilisi. The current administration cited many examples when high officials have been arrested and jailed because of their involvement in illegal activities.
Prime Minister Irakli Gharibashvili stated that once and forever subversive actions and anti-state activities should be stopped in Georgia. Now that the elections are over, the GD has gained all the vacancies. It is high time for it to start fulfilling all its promises.