Georgian government meets in State Chancellery
By Ana Robakidze
Tuesday, July 15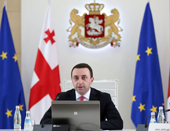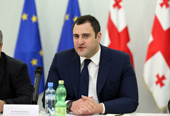 Georgian Prime Minister Irakli Gharibashvili says Minister of Internal Affairs, Alexandre Chikaidze, and his ministry did a great job and set a "record" by seizing 2 tonnes and 790 kg of liquid heroin last week.
Speaking at the cabinet's meeting on July 14, the PM praised Chikaidze for carrying out the government's strict anti-drug policy.
"We have to appreciate, what is being done by the agency of Lekso Chikaidze. It was once again confirmed that the political will of our government to fight drug-smuggling remains to be strict. Neither similar, nor even an approximate quantity of drugs had ever been seized in previous years. Last year we seized 116 kilograms, which was the record rate, though Chikaidze managed to set a new record, for what I would like to congratulate him once again," Prime Minister states.
Gharibashvili once again congratulated his team with wining all vacant places in the second round of self-government elections. He said the election turned out to be a great success for the whole country and for its further development.
The government had 34 topics set to be discussed at the meeting and one of them was a draft law setting new criteria for future judges. The draft offers the termless appointment of judges, who will have to successfully pass a three year of probationary period. The draft, which will be sent to the parliament for further discussion was presented by the Minister of Justice, Thea Tsulukiani.
She explained to the cabinet that the draft will serve as a milestone in the reform of the judicial system. According to Tsulukiani, the new law sets a strict list of professional as well as personal criteria that future judges would have to meet, which will eliminate the possibility for corruption and bribery in the justice system. The Minister said before getting their termless appointment, judges will have to prove that they will be independent and impartial in their work and show a high proficiency.