Oil industry of Azerbaijan decline increases to 3.4%
By Messenger Staff
Tuesday, July 15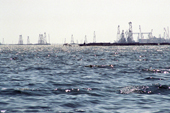 The oil industry of Azerbaijan has further declined to 3.4%. In June 2014, the oil industry of Azerbaijan, which had a demonstrated growth in 2013 for the first time over the last few years, has continued resumed its decline in January 2014, Fineko/abc.az reports.
The State Statistics Committee of Azerbaijan informs that for Jan-Jun oil and gas industry dropped by 3.4% from a rate of 3% in May and April, 3.6% in March, 4.8% in February and 5.2% in January, growth by 1.1% in 2013 and decrease by 4.2% in 2012.
The non-oil industry grew for Jan-Jun by 4.2% against a rise of 3.4% in May, 4.3% in April, 6.8% in March, 8.8% in February, 5.6% in January, 4.8% growth in 2013 and 7.8% growth in 2012.
Over Jan-Jun 2014 industrial production in Azerbaijan made up AZN 16.9 bn (including AZN 2.8 bn in January, March, April and June, AZN 3.1 bn in May and AZN 2.6 bn in February) against AZN 33.7 bn in 2013.
For Jan-Jun 2014 Azerbaijanís oil production reached 21.2 million tons (by 3.6 million tons in January, March and May, AZN 3.2 million tons in February, 3.7 million tons in April, and 3.5 million tons in June) against 43.1 million tons in 2013 and 42.985 million tons in 2012.
Gas production reached 9.1 bn cu m (by 1.6 bn cu m in January and in April, by 1.5 bn cu m in February, May and June, and 1.4 bn cu m in March) against 17.9 bn and 17.24 bn cu m respectively.
(News.Az)