Georgian government releases statement regarding Malaysian air disaster
By Ana Robakidze
Monday, July 21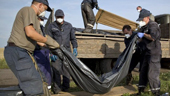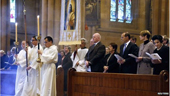 Georgia's Parliament and the government expressed their deepest condolences to the families of those killed in the Malaysia Airlines flight MH17 crash in eastern Ukraine on July 17. Reportedly the plane was taken down by a surface-to-air missile fired from the territory controlled by the pro-Russian rebels in Eastern Ukraine.
In the statement released by the Ministry of Foreign Affairs, it is said that it is essential to investigate what caused the tragedy.
"At this stage, it can be unequivocally stated that the crash is a disastrous consequence of the armed conflict in Ukraine, which is in breach of national and international law and of the country's sovereignty and territorial integrity. The Georgian Foreign Ministry conveys its sincere condolences to the governments and people of the Netherlands, of Malaysia and of all those countries whose citizens were on board the aircraft, and expresses its solidarity with the families of the victims." the MFA said.
Speaker of the Parliament, Davit Usufashvili believes outside forces were involved in the tragedy.
"The Georgian Parliament unanimously joins calls for an investigation and for bringing the perpetrators, whether individuals, or states to justice." Usupashvili said on July 18th.
Following the tragedy, Hungarian Airline Wizz Air and Ukrainian Airlines announced that their flights between Georgia and Ukraine will now be diverted to Turkish airspace in order to avoid the conflict zone in eastern Ukraine.
The information was confirmed by the United Airports of Georgia. According to the Deputy Director of the United Airports of Georgia Giorgi Molodinashvili, airplanes from Ukraine will first enter Turkey's neutral airspace and after enter Georgia.
According the recent data, 196 bodies have been retrieved from the crash site. The OSCE team which has only limited access to the crash site, informed that the bodies are being kept in refrigerated train cars at a station nearby. The train will remain in place until international specialists arrive.
The investigation process has already been launched. However, the teams will have a hard time working, as the crash site is located in a war-zone controlled by pro-Russian rebels and access to the area is limited.
Considering the importance of the impartial investigation, the UN Security Council is considering a draft resolution to demand that the armed groups in control of the crash site and the surrounding area refrain from any actions that may compromise the integrity of the crash site and immediately provide safe, secure, full and unfettered access to the site and surrounding area. The resolution was drafted by the Australian side which lost 28 citizens in the plane crash.