Georgia to receive financial aid up to 410 million euros from EU
Monday, July 21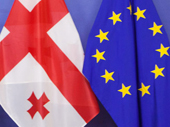 A memorandum of understanding was signed between Georgia and the EU as part of the Single Support Framework (SSF) on Friday night at the Georgian parliament building in the city of Kutaisi.
The document was signed by Georgian State Minister on Integration into European and Euro-Atlantic Structures, Alexi Petriashvili and European Commissioner for Enlargement and European Neighbourhood Policy Stefan Fule.
The memorandum of understanding defines the main priorities and the amount of the EU aid to Georgia in the years 2014-2017.
The aid will be aimed at supporting the Georgian government in holding democratic reforms, while the EU commits itself to allocate financial assistance to Georgia in the years 2014-2017.
This financial assistance will range from 330 million euros to 410 million euros.
A protocol of changes to the financial agreement, as part of the agriculture development sector policy support program, was also signed.
This envisages the allocation of additional 12 million euros.
Prior to the signing of these documents, on Friday, the Georgian parliament ratified the EU Association Agreement, signed by the two parties on June 27.
(trend.az)