Ombudsman offers amendments to the law on public defender
By Ana Robakidze
Wednesday, July 23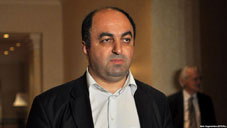 Georgian Public Defender Ucha Nanuashvili presented to the parliament a draft of amendments to the law on the Georgian Public Defender. According to the draft, the National Preventive Mechanism should be granted with the right to carry out photo and video recording in the investigation process. Nanuashvili believes this right is essential for the mechanism to ensure its effectiveness.
According to Nanuashvili, cases of physical and mental abuse in the Georgian penitentiary system can be hardly investigated due to the lack of evidence or opportunity to find it. The ombudsman claims the possibility to make video and audio recording in the penitentiary establishments, as well as in shelters and orphanages. This will ensure effective investigation of the cases of torture in the system and also will enable the ombudsmanís office to increase effectiveness of the preventive mechanism.
Making photo and video recordings is a common practice in many European countries. Sweden, Germany, Poland and Czech Republic are among the countries to grant unlimited right to making video/audio recordings to its groups carrying out preventive measures in the penitential system.
Nanuashvili hopes the Georgian parliament will share the experience of the leading European countries and approve the draft as soon as possible.