NATO Parliamentary Assembly visits Tbilisi
By Ana Robakidze
Monday, July 28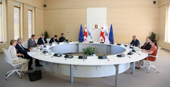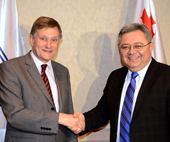 President of the NATO Parliamentary Assembly Hugh Bayley visited Georgia to support NATO-Georgian cooperation and hold meetings with the government, as well as with the representatives of civil society.
Speaking at the press conference after the meeting with Georgian Parliament Speaker Davit Usufashvili, Bayley said Georgia is the most important partner of NATO and that cooperation with Georgia should be taken further and not expressed in words only.
"NATO foreign ministers have proposed a process to enhance the relationship and cooperation between your country, Georgia and NATO. These must not be just words. It must be a program of practical cooperation, which enhances Georgia's security and takes your major steps along the path to NATO membership. We, as the Parliamentary Assembly, stand with you in that ambition," Bayley said.
He also spoke about the Russian factor in the security of Caucasus and said the upcoming Wales Summit shall address the issue.
"Georgia significantly contributes to strengthening the security (in the region). I sincerely welcome the signing of the Association Agreement (AA) with the European Union (EU). This is an important step on the path of Euro-Atlantic aspirations…It is inevitable that questions are raised about the future NATO Summit in Wales. Russian aggression in the region will be one of the main issues to be discussed and (questions will be asked) how will NATO react to possible threats coming from Russia and how NATO should cooperate with countries to avoid possible danger," he said.
President Bayley also thanked Georgia for its large contribution to NATO peacekeeping missions and therefore participating in strengthening security worldwide.
Speaking after the meeting, Usupashvili emphasized with the media that Georgia has high expectations from the Wales summit and looks forward to significant decisions by NATO, which will strengthen Georgia's security, as well as NATO's position as the guardian of peace and stability in this region of Caucasus and beyond.
"We agreed that the decision made at the NATO Wales Summit should be a clear message for everyone that the process (of Georgia's Euro-Atlantic integration) continues and it continues successfully," Usupashvili said.
Hugh Bayley and his delegation also met Prime Minister Irakli Gharibashvili and President Giorgi Margevlashvili to discuss further cooperation between Georgia and NATO.
The NATO Parliamentary Assembly delegation included Vice presidents of the Assembly Daniel Bacquelaine and Carl Lamers, former vice president of the assembly Julio Miranda-Calha, secretary general of the assembly David Hobbs.