Over 90% of cars in Georgia released until 2004
Monday, July 28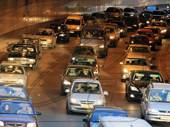 Georgia's vehicle fleet is growing annually. Some 60.9 percent of the fleet accounts for passenger cars, most of which are gray and white.
A considerable part of the fleet (90.9 percent) are the cars, manufactured until 2004, according to the Georgian Interior Ministry.
In 2013, the number of vehicles of the NISSAN brand (32 percent) and HONDA brand (30 percent) has increased significantly. Majority of passenger cars (51.9 percent) are of sedan type, though high off-road performance cars were in large demand in 2013.
Both men and women prefer cars of Mercedes Benz brand.
In 2013, the import of cars increased by 17 percent. Some 21.2 percent of imported vehicles were the cars that run on diesel. The right-hand drive cars accounted for 15 percent of imports.
In 2013, the most popular models of premium brands were: Land Rover Range Rover (38), Land Rover Evoque (26), Mercedes ML (24) and BMW X5 (23).
(trend.az)