Fruit and vegetable export increases
By Messenger Staff
Monday, July 28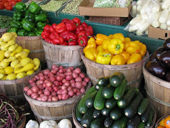 In June-July of 2014, the export of fruit and vegetable increased in Russia, Belarus, Kazakhstan, Ukraine, Armenia, Azerbaijan, Turkey and Great Brittan.
In those two months Georgia exported 2,551 tons of fruits and 1,532 tons of vegetables. Currently, Georgia is exporting peaches to Russia.
The responsible state bodies are advised to facilitate Georgia's export production of fruits and vegetables and make sure all certificates and documents are issued in due time and the control mechanism is well organized so that farmers do not have difficulties in exporting their goods.