PM mum over additional cabinet replacements
By Messenger Staff
Monday, July 28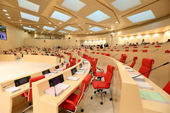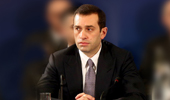 Seven ministers were changed in the Georgian cabinet recently. However, neither the Prime Minister nor analysts exclude the possibility of changing more ministers in the cabinet. It is premature to say exactly who is liable to be replaced, but Prime Minister Irakli Gharibashvili stated there are some cabinet members that may be susceptible to change. He did not provide any names, saying he will give them one more chance to reveal their full potential.
The majority members have not revealed the possible candidates for the changes in the government. However, the opposition predicts that the next wave of changes could affect the ministers of Irakli Alsania's team. The team includes Alasania himself, Foreign Minister Maia Panjikidze, Justice Minister Thea Tsulukiani and State Minister for Euro-Atlantic Integration Alexi Petriashvili.
The opposition is eager for this type of cabinet reshuffle. It tries to stir discord in the coalition, so that to block the activities of the current government. Instead of creative work for the benefit and welfare of the population, the opposition pursues confrontation inside the coalition.
There is one more interesting point, if Alasania's party of Free Democrats separates from the Georgian Dream Coalition, it will direct the situation into a very peculiar destination. This is because Alasania and his party are distinctly and openly of a pro-Western orientation. This will raise several questions. So far, such opinions speculation is just that– speculation. PM Gharibashvili has not even given a hint of who he is prepared to discharge in the future.
Many analysts and opposition representatives speculate about the involvement of the former PM and the leader of Georgian Dream Coalition Bidzina Ivanishvili in the governing process. It is well known that Gharibashvili is Ivanishvili's close ally.
PM Gharibashvili categorically denied the possibility of snap parliamentary elections, according to him, the time for creativity and development has come and there will be no elections before 2016. These will be a crucial 2 years for the Georgian Dream Coalition, so it has to finally start fulfilling all the promises it has made to those who put them in office– the Georgian voters themselves.